This is the first of a series of articles where I'll talk about different aspects of the art of collecting fine silverplated flatware…the collectibility, the beauty, the quality, the sentimentality, and many of its uses. Not only will we discuss the silverware, but also delve into the care, different storage solutions, as well as talk about other types of silverplated collectibles for the tabletop, both antique and current.

The Grosvenor Pattern by Community – 1921
This is a field that has been dear to me for more than 30 years. In order to understand what has been my passion, I would first enjoy sharing with you, my readers, who I am and to learn a little about me and how it all began.Let me introduce myself. My name is Nancy and I am the the founder of Nancy's Silver Shop, a silver matching service and supplier of all needs pertaining to the love, caring, and nurturing of silverplated flatware. As I stated earlier, this has been a passion for me for many years. When I was a teenager, I was asked by a family member to assist in selling off some inventory from a store liquidation, which included some old sets of silverplated flatware. We took the sets to a popular antique flea market and they were indeed getting attention from the shoppers, although the sets remained unsold. Our dilemma was that our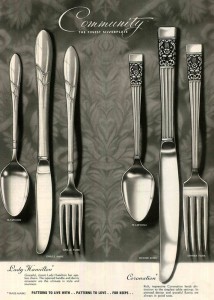 An Ad for Community Patterns from the 1950′s
potential customers did not want to purchase an entire set but rather individual pieces that matched their set at home. They recognized the given pattern as one that was left to them from a relative or the one they have had since their wedding day 40 years ago…patterns that were discontinued, no longer being manufactured and no longer available in retail stores. They wanted to fill in with pieces that, through the years, have been lost. We decided to break up and dismantle these beautiful sets, and as a result, the silver began to sell. It was so enjoyable for me to see the customer's reactions to having acquired additional pieces to their pattern and, of course , I loved the selling aspect . I convinced my relative to sell me the silver plated flatware inventory that consisted at the time of about 5,000 pieces. I started to shop for more … I didn't need to purchase full sets for resale as I was going to sell the pieces individually anyway. Eventually, I realized that while people needed to fill in with missing pieces to their standard place setting, they needed to do so on the secondary market. It also occurred to me that my customers probably would enjoy finding rare pieces in their patterns that they did not know were ever even available due to the extreme rarity of some pieces. This is where the fun begins! People would come to me and tell me that they inherited a set from a deceased relative and they would love to add on to their set. Although I realized what I wanted to do now, I still decided to complete my college education and get my degree in business.
Rarity of pieces are taken into consideration when placing a value on the silverware. There are those patterns that have been manufactured for many years and some that have been manufactured for a brief period of time. Often, if sought after patterns or particular pieces were not manufactured for too long a period, and there is very little on the secondary market, those pieces will probably be of greater value. Some of the Manufacturers that made silverplated flatware include: Holmes & Edwards, Prestige, International, 1847 Rogers Bros, Wm.Rogers, Oneida, Community, National, and Reed & Barton (to name a few). Some popular collectible patterns include: Vintage, Moselle, Charter Oak, Colombia, First Love, Coronation, Eternally Yours, Remembrance, Orleans (to name a few).
Through the years, I have had the privilege of appearing on CNN and the Kovels Antique and Collectible Show. I also had many of my rarest pieces featured on various collectible shows that were on the Home and Garden Channel. My favorite appearance, however, was giving a talk to a ladies group in Pasadena many years ago… I enjoyed their love and enthusiasm for the silver! I even made the cover story (above the fold) of the Pasadena Star News (It was no doubt, a very slow-news day!) I enjoy the silverware…I enjoy finding wonderful pieces in wonderful old patterns….and I enjoy sharing this time with you. Hopefully, my enthusiasm has been infectious and you enjoyed this time as well.
Nancy